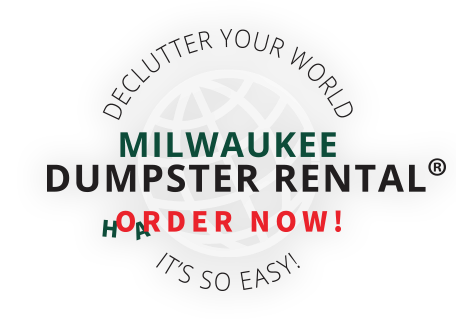 Milwaukee Dumpster Roll Off and Lugger Dimensions
Order Your Dumpster Now
Available Rental Dumpster Dimensions
(Lengths are approximate and can vary up to a couple feet or so)
Roll Off - Rear Gate (vast majority of hinges are on the passenger side)
| | | | |
| --- | --- | --- | --- |
| | L | W | H |
| 12 yrd - | 20' | 8' | 2' 1/2 |
| 15 yrd - | 20' | 8' | 3' 1/2 |
| 20 yrd - | 20' | 8' | 4' 1/2 |
| 30 yrd - | 20' | 8' | 6' |
| 40 yrd - | 20' | 8' | 7' |

Luggers - No Gate
(Flat Bottom/ Smaller Base/ Higher Sides)
| | | | |
| --- | --- | --- | --- |
| | L | W | H |
| 8 yrd - | 10' | 5' 1/2 | 3' 1/2 |
| 10 yrd - | 10' | 5' 1/2 | 4' |
| 12 yrd - | 12' | 5' 1/2 | 6' |
| 12 yrd - | 16' | 5' 1/2 | 4' 1/2 |
| 15 yrd - | 16' | 5' 1/2 | 5' |
| 20 yrd- | 16' | 5' 1/2 | 6' 1/2 |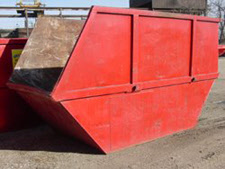 Find The Best Dumpster Size for Your Needs
Milwaukee Dumpster Rental is a great source in helping you to find the right dumpster for whatever waste management task you may have at hand. While every project has it's own unique scope and size, we can make general recommendations for the best sized dumpster to work for your purposes.
Quick Dumpster Sizing Guide
Skim the guide below to choose the right size dumpster. Contact us directly to discuss the specifics of your project.
40-Yard Dumpster: Great for hoarder house clean-ups and home demolition. Perfect for warehouse clean-outs and large office spaces.
30-Yard Dumpster: Ideal for construction projects, remodeling and big residential cleaning projects. Great for use for estate clean ups of a family residence.
20-Yard Dumpster: Great for storage unit clean outs. A great mid sized container for household clean outs, residential roofing jobs to commercial cleaning projects.
15-Yard Dumpster: Recomendedfor decluttering your home and garage. Roofing jobs under 35 total square of asphalt shingles. Good for clean outs of large storage units.
12-Yard Dumpster: Awesome for storage unit cleanouts of unwanted furniture, toys and misc household debris. These come in handy when moving out of apartment rental units. They hold up to 30 square of asphalt roofing shingles.
For a more detailed breakdown on dumpster sizing by project type, find your project below.
Dumpster Size for Residential Household Clean Up
Recommendation: 12-yard, 20-yard, or 30-yard Roll Off Dumpster
Getting a properly-sized dumpster for home cleanup will depend on the size of project. If you just need to de-clutter for spring cleaning, a 12yrd small dumpster will probably do just fine. You may have a mattress along with a couch and perhaps some yard waste such as brush. You can probably fit several bags of clothes along with various items from the garage. Old glass windows and dry paint cans go into your dumpster as well.
The 20 yard medium size dumpster is the most serviceable dumpster for most residential clean ups. It can hold the trash equivalent of the size of a large van. If you order the dumpster in a roll off you will have access to a swinging gate in the back of the container, making it easy to load from all sides. This will make it easy to load large items such as decks, metal and wood cabinets, benches, old furnaces into your dumpster.
*A good dumpster sizing rule: For every year that you live in your home you accumulate 1 cubic yard of garbage. Customers cleaning out their homes after 30 years most likely fill up a large 30-yard dumpster. Full estate clean-ups have been known to require two or three 30-yard dumpsters.
Dumpster Rentals for Hoarder Homes
Recommendation: 30-yard Roll-Off Dumpster
We are all hoarders to one degree or another. As a rule - Items collected to try to save money in the future may cost hundreds of dollars in dumpster rental costs somewhere down the road. A 1,200 square foot home with a basement and garage filled with household collectables can require up to 6, 30 yard, large dumpsters. Milwaukee Dumpster Rental can supply 40 yard dumpsters for such large residential clean ups. It is easier to list the items that cannot be placed into a dumpster.
Most household items are allowed such as solid food, plastic, metal, clothes, wood, cardboard, paper, tables, chairs, lamps and glass.
What Size Dumpster Do I Need for Moving?
Recommendation: 8 to 15-yard Roll-off Dumpster
It's a good idea to rent a dumpster whenever you move. It's the perfect opportunity to go through all of your items and de-clutter. Try placing a smaller dumpster—8 yard, 10 yard, 12 yard or 15 yard—next to your moving truck and purge as you go. As always, hazardous and restricted materials such as paint, tires, electronics and large appliances should be placed off to the side for later pick up by your local government.
Dumpster Sizing for Estate Clean ups
Recommendation: 30-Yard Roll Off
When you live 30 to 40 years at one residence you may discover you no longer need nor want many of the items you have accumulated. A large 30-yard dumpster is just what you need to downsize your possessions into a more manageable amount. Depending on your lifestyle, two 30-yard roll off dumpsters may be needed.
Contact us to find out what dumpster size is best for you.
Dumpsters for Your Business—What Size Do you Need?
Recommendation: 12 to 20-yard Dumpster
Whether you're just starting a business or growing your company, at some point a you'll need to rent a dumpster for demolition and new construction. A 20-yard dumpster is medium in size and can handle most of the needs of a growing business. Many businesses find a single 12-yard dumpster to be a better solution for the back of their building since there are fewer pick-ups and more room to fit larger trash items.
Best Sized Dumpsters for Summer Festivals
Recommended: 20 to 30-yard Roll Off
It would be best to order a 20 yard or 30 yard for your local fair. Church festivals, local art and music shows tend to generate plenty of trash. Literal tons of plastic drink cups and plates, food, and general refuse can accumulate over any weekend at one of the many summer festivals in SE Wisconsin.
Dumpster Sizes for Demolition and Remodeling
Recommendation: 30 or 40-Yard Roll Off Dumpster; 20-yard Lugger Dumpster
Residential construction projects can require different dumpster sizes throughout the process. The largest roll-off dumpsters (30 or 40-yard) is usually required during the demolition phase of a remodel. This will handle the bigger, heavier material such as plaster, drywall, concrete, siding, roofing and sub flooring.
During the reconstruction phase a 20-yrd Lugger dumpster is usually the dumpster of choice for 2 reasons:
The Lugger has a smaller footprint so it is easier to manage on your driveway.
Most cost effective way of disposing trash because of its bigger size and ease of loading.
When your remodeling project is entering its finishing phase with painters, electricians and finish carpenters, an 8 yard or 10 yard lugger dumpster can be the right size for the plastic / cardboard wrappings and wood cut offs.
What Dumpster Size for a Full Home Demolition?
Recommendation: 30 or 40-yard Roll Off Dumpster
For a 1,200 sq. ft home, between 8 to 12 30-yard dumpsters may be needed for a full demolition. 40-yard containers are cost effective in the demolition of a home when loaded with a machine loader such as a Bobcat or Excavator. You can save money when you order 12-yard dumpsters for dirt and concrete. These materials are recycled so dumpsters can be offered at a lower cost.
Best Dumpster Size for Construction Sites
Recommendation: 30 or 40-yard Roll Off Dumpster
Whether for commercial or residential construction jobs, 30-yard roll off dumpsters are the preferred choice on job sites. The 30-yard is a large dumpster that will handle the weight and volume of general construction waste. This dumpster has a swinging gate in the back, allowing easier loading of shingles, concrete and large wood cut offs like trusses. The 30-yard is usually about 5 feet tall, 22 feet long and 7 feet wide. Most workers are able to easily load a container after the dumpster gate is closed in the back.
The Largest dumpsters, such as the 40-yard roll off, stand 7 feet tall and tend to be too tall for many workers. This can lead to wasted space as a result of workers carelessly tossing trash over the sides of the container. Due to this, 40-yard dumpsters work best with large loaders.
What Size Dumpster will I need for new construction?
Recommendation: 30-yard Roll Off Dumpster
There are variables, but generally three or four 30-yard dumpsters are needed for a 2,500 sq ft new construction home. You may just need a 12-yard at the very end of your building project. We recommend staying with the 30-yard because you can always fill any additional dumpster space with the excess trash from moving. Packing materials, old furniture and boxes can be mixed with construction trash.
What Size Dumpster do I need for Garage Demolition?
Recommendation: 30-yard Roll of or Larger
A 1½ car garage should squeeze into a single 30-yard dumpster if you are mindful of the way you are loading your dumpster. Keep your materials flat as you load. If you need to remove the slab this will require an additional 12 yard roll off dumpster for concrete.
Dumpsters for Concrete
12-yard Roll-Off ONLY
A 12 yard dumpster is the largest dumpster we offer for concrete due to the maximum weight the truck is allowed to haul, but the price of a 12-yard dumpster is cheaper than a regular debris dumpster with a ton cap. When the concrete is kept clean— with very little dirt in the load and no other trash—we are able to recycle the concrete and offer it at a cheaper cost to you. "Unclean" concrete dumpster will be treated as a regular dumpster and is subject to ton cap charges.
Dumpsters for Dirt
12-yard Roll-Off ONLY
A 12 yard dumpster is the largest dumpster we offer for dirt due to the maximum weight the truck is allowed to haul. It cannot be heaped into a small mountain. It must be kept "level full". Level with the top of the container. We offer these dumpsters for dirt at a lower rate because the material can be recycled. These dumpsters must contain dirt only "Clean Dirt". If the dirt has any other material mixed with it tonnage cap rates may apply.
Heavy Mix (Dirt and Concrete)
12-yard Roll-Off ONLY
When concrete and dirt are mixed together, it's considered a "heavy mix". No other material is allowed other than dirt or concrete, otherwise regular dumpster rates may apply. Lower rates and prices are offered on the 12-yard container because the materials are recycled. The 12 yard is the biggest container offered for this concrete, asphalt and dirt. Dumpster loads may not be heaped.
What Size Dumpster do I need for Roofing?
Recommendation: 12-yard Roll Off or Larger
A 1,500 sq ft house with one layer of asphalt shingles usually requires a 12-yard dumpster. A 12-yard dumpster can hold up to 28 roofing squares. Keep in mind the dumpster size you need for roofing depends on how many roofing squares you have to remove or "tear off". Make sure you account for the number of layers of roofing you need to remove.
Roofing Dumpster Special Pricing
Order the No Ton Cap roofing special to get a cheaper dumpster. Recycle your asphalt shingles and save up to $300 on large roofing projects (not applicable to cedar shakes). Dumpsters must be kept to asphalt shingles, bundle rappers, metal gutters and wood only. No dirt, concrete, asphalt or brick materials. If the load is not deemed as "clean shingles" regular dumpster terms and rates will apply.
Best Rental Dumpster Pricing and Service
Milwaukee Dumpster rental is the best waste management source for a dumpster / roll off for your remodel, garbage, trash, waste recycle needs. Serving Southeastern Wisconsin with longer rental periods, same day service and no hidden fees. For The Best Price Choose Milwaukee Dumpster Rental®. Find your Milwaukee area dump.
We are your waste management source in Milwaukee - Waukesha - Kenosha - Racine - Sheboygan - West Bend - Port Washington - Brookfield - South Milwaukee - West Milwaukee - West Allis - New Berlin - Cudahy - Whitefish Bay - Mequon - Germantown - Pewaukee - Slinger - Jackson - Hartford - Hartland - Fort Atkinson - Waterford - Watertown - Bayview - Kewauskum - Menomonee Falls - Whitewater - Beloit - Elkhorn - East Troy - Oak Creek - Delafield - Sussex - Burlington - Elm Grove - Wauwatosa - Cedarburg - Grafton - Saukville - Jefferson - Oconomowoc - and many others areas in between.