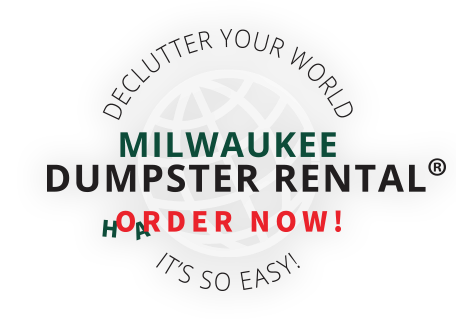 Racine County Dumpster Rental
Rent a Dumpster in Racine
Whether you're remodeling your living room, or working at a construction site, Milwaukee Dumpster Rental has the perfect rental dumpster for your needs at the best price. We carry many different sizes and two different styles for any type of waste management job in Racine, Wisconsin. Keep your Racine rental dumpster up to 15 days at no additional cost.
Roll off Dumpsters are the standard dumpsters you find in most construction job sites. Roll offs have gates in the back and are tipped back and rolled onto your driveway. The dumpster gate always stays to the back of the container. Hinges are commonly located on the driver side of the vehicle. Most roll off dumpsters have a similar base size.
Lugger Dumpsters are generally shorter, with angles on the short ends. These are perfect for ally deliveries, tight parking areas and driveways. They have the same cubic yardage but have a smaller base and higher sides.
Save $20.00 when you order online
What size dumpster do I need?
If your trash is about the size of a mid sized car, it should fit into a 12 yard dumpster. If you have twice that amount, you may need a 30 yard roll off dumpster. If furniture beds couches tables and large items are broken down and laid flat you will be able to toss even more trash into the bin. However, if you have small amounts of trash or hazardous materials you can take them to your local recycling facility.
| | | | |
| --- | --- | --- | --- |
| Size | Type | Capacity | Price |
| 8 Yards | Lugger | 2 Tons | $450* |
| 10 Yards | Lugger | 2 Tons | $455* |
| 12 Yards | Roll-off | 2 Tons | $460* |
| 15 Yards | Lugger or Roll-Off | 3 Tons | $480* |
| 20 Yards | Lugger or Roll-Off | 3 Tons | $495* |
| 30 Yards | Roll-Off | 4 Tons | $525* |
| 40 Yards | Roll-Off | 4 Tons | $640* |
*Order online and save $20
How long can I rent a dumpster?
A lot of rental companies only let you have a dumpster for 7, 10 or 14 days. Our rentals last 1-15 days. We have special rates for remodeling, new construction or if you have a death in the family and need to settle an estate. 15 days allows you time to sort through all of your belongings. The average person collects up to 1 cubic yard of junk each year of their life. When you save items for 30 years in attempt to save money you may one day spend hundreds of dollars disposing these same items.
How high can I fill the dumpster?
Dumpsters can only be filled to the upper rim of the container. The trash has to be level with the top of the container. Drivers do tarp the loads, but if debris is sticking out of the top of the container, the load can fall out onto the roadways and create a safety hazard. If your Racine dumpster rental needs to be placed on a public street, contact your local government body.
Do you rent dumpsters for concrete in Racine?
Yes! We rent 8, 10 and 12 yard concrete dumpsters for the removal rebar, asphalt and dirt. Due to the recyclability of concrete materials, tonnage fees are often waived for clean and unmixed loads. When a load is mixed the ton cap may be applied because items such as concrete can no longer be recycled. Call us before ordering.
How much notice is needed to rent/return the dumpster?
24 Hours. In most case same day delivery is very possible otherwise it will be the next day if the request is received before 10am. You can call, text or email us and it will be removed within 24 hours. Call before ordering a Saturday delivery or pick up.
What can I put into a dumpster?
It is common to ask what can I throw into my Racine rental dumpster, but it is actually easier to list the items that are not allowed into the landfill. Some of the items not allowed are tires, electronics, gas and oil, aesbestos. Liquids of any kind are also not allowed. You can put most residential and construction items, plastic, cloth, wood and metal in a dumpster. Take a look at our list of what can or can't be loaded into a roll off or lugger dumpster.
Can a dumpster damage my Racine driveway?
Under normal conditions driveways do not receive damage from waste removal delivery. In order to protect your driveway from scratches or cracks place 2'x6's or plywood so the driver knows where you want it placed. Please see terms and conditions.
Local Dump Information
Racine Recycling Dump. Department of public works. 14200 Washington Avenue, Sturtevant, WI 53177 (262) 886-8440.
Directions from TEC Recycling Center LLC 20815 Durand Ave, Union Grove, WI 53182
Head west on WI-11 W/Wisconsin Trunk Hwy 11 W toward Haag Dr.
Turn right onto S Britton Rd/Spring St.
Turn right onto WI-20 E
Turn left onto Greenmonte Dr.
Turn right and arrive at your destination