Dumpster Rental in Mequon
Dumpster for Roofing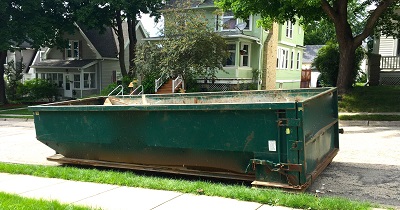 Finding a way to get rid of your torn-off shingles can be a challenge. Make it easier with Milwaukee Dumpster Rental. We service Mequon and surrounding areas for roofing, construction, and more with dumpster sizes for all types of projects. The size dumpster you need will depend on how many asphalt roofing shingles you have to dispose of and the roofing material. Unfinished job? Keep your dumpster for up to 15 days for no additional cost.
Scrap Metal Dumpster
Getting rid of your scrap metal from large projects is easy. We offer dumpsters for unwanted waste in a variety of sizes, including:
| | | | |
| --- | --- | --- | --- |
| Size | Type | Capacity | Price |
| 8 Yards | Lugger | 2 Tons | $450* |
| 10 Yards | Lugger | 2 Tons | $455* |
| 12 Yards | Roll-off | 2 Tons | $460* |
| 15 Yards | Lugger or Roll-Off | 3 Tons | $480* |
| 20 Yards | Lugger or Roll-Off | 3 Tons | $495* |
| 30 Yards | Roll-Off | 4 Tons | $525* |
| 40 Yards | Roll-Off | 4 Tons | $640* |
*Save $20 when you order online!
Save $20.00 when you order Online
What size dumpster do I need?
Most homeowners order a 10 yard dumpster rental for a general clean-up of their residence, basement, garage, or yard. This size will enable you to demo out a kitchen and a small bathroom with perhaps additional room for general waste from your home.
The 20 and 30 yard roll off dumpsters are great for larger remodeling. These containers have a swinging door located in the rear of the container and come in handy when large amounts of plaster, tile and drywall need to be removed. Higher ton caps can also reduce the costs associated with large construction demos.
What can I put in a dumpster?
Most construction and household materials can be put into a dumpster. The list of items that you can't put into a dumpster easily identifies the main things not to throw away including tires, electronics, liquids, and large appliances. Call if you need to throw out concrete, dirt, or asphalt. We may be able to save you money by recycling.

How soon can I get a dumpster rental in Mequon?
The best-case scenario is same day if you order before 10am with delivery times between 7am – 5pm. During holidays and peak season, deliveries and pick-ups can require 24-48 hour lead times.
Allow 24 hours for removals or 48 hours during busier times such as holidays and summer months. If an order is placed on the weekend the order is loaded into to the system that following Monday, so call for Saturday deliveries and pickups. Make sure your driveway is clear for deliveries and the dumpster is not blocked or overfilled when it is time to remove.
Will a dumpster rental damage my Mequon driveway?
Damage can happen to asphalt on hot days, especially if the loads contain heavy materials from construction, remodeling, or roofing. We do not recommend placing dumpsters on the grass due to the unpredictability of the weather. The use of plywood or 2X6's can help to protect the surface that you need to place your dumpster rental on. We do not know the thickness of any given surface required to deliver or pick up a dumpster.
Areas commonly serviced in Mequon include: Freistadt Rd, Wauwatosa Rd, Thiensville, Concordia University, and the Ozaukee Country Club.