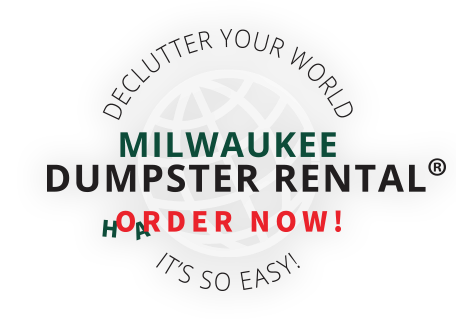 Dumpsters for Concrete Removal
Dumpster for Concrete, Asphalt, & Pavement
When you're replacing concrete, breaking it up is the fun part. But all those concrete pieces need to be removed, which means you'll need a concrete rental dumpster for cleanup. Look no further than Milwaukee Dumpster Rental to get the concrete dumpster you need at an affordable price.
If you need to haul away concrete, asphalt or dirt, our dumpsters are the answer. If you can keep these materials appropriately separated, we can wave the tonnage fees and recycle them for reuse!
A typical weight of a 12 yard dumpster filled with concrete is approximately 12 ton. A 12 yard dumpster full of concrete is the maximum we can haul at one time. It cannot be loaded higher than the sides of the dumpster.
1 cubic yard mixture of sand, gravel or stone can weigh more than 3,000 pounds.
1 cubic yard of concrete or asphalt weighs about 4,000 pounds.
A 10' x 10' pad of concrete 4 inches thick is a little over 1 cubic yard. (1.23) It weighs approximately 4,400 pounds. If you want to calculate the weight of the concrete by cubic foot, just divide the cubic yard weight by 27.
Weight and volume depend on how the concrete is loaded. Pulverized or in big pieces can make all the difference.
This information above is only for the recycling of concrete (clean concrete). There is no ton cap on a clean dumpster.
Save $20.00 when you order Online
Dumpster sizes for concrete, asphalt and dirt
There are several dumpster sizes available for hauling concrete, dirt and asphalt, including:
8 yard – A smaller lugger-style dumpster, high edges and no rear gate
10 yard – This lugger-style holds more than the 8 yard, high edges and no gate
12 yard – Largest size available for concrete, recommended for ease of loading
What's better for Concrete – Roll off or lugger?
Depending on the size of your project, an 8 yard lugger may be the right size but the wrong dumpster style. The 8 yard and 10 yard dumpsters are only available as a lugger. The 12 yard roll off may be a better option because roll offs have back swinging gates and luggers do not have any gates at all. Roll offs allow contents to be rolled in with a cart or wheelbarrow and have lower sides than the luggers. See our dumpster dimensions.
Concrete recycling prices
Because concrete can be recycled, the price is the same for any of the available dumpster rental sizes. The cost is lower than regular dumpsters because recyclable materials like concrete, asphalt and dirt aren't directly placed in a landfill. Rebar is also allowed in the concrete loads.
NOTE: Concrete mixed with asphalt and dirt may be charged at a slightly higher disposal rate because it is considered to be a "mixed load". Tonnage costs are only waived if the material is "clean" meaning only concrete material.
Asphalt recycling prices
Like concrete, asphalt dumpster pricing is reduced because the asphalt material is recycled. Tonnage will not be applied when the load is kept only to asphalt. Concrete, asphalt and dirt can be mixed together. Slightly higher rates may apply due to the "mixed" load.
Dirt recycling prices
Rental dumpsters containing dirt can be hauled away at a lower cost because tonnage cap fees are waived as long as the load is kept to dirt only. Mixed loads of dirt, concrete and/or asphalt will be charged a slightly higher rate.
General rules for recycling dumpsters
Due to safety issues during transportation, loads cannot be heaped above the rim of any lugger or roll off dumpster. Dirt loads may need to be profiled for proper disposal. When dumpsters have to be placed on a public street, additional cost may occur due to street permit and or barricade fees. Tonnage rates can apply if general debris is mixed in with the recyclable material.