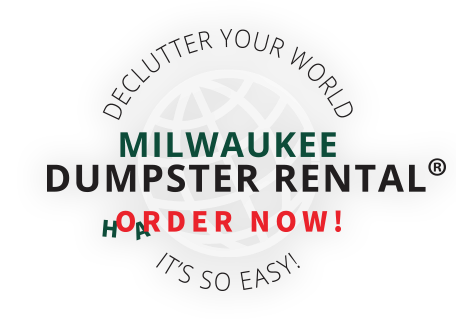 Affordable Dumpster Rental in West Allis
How to Rent a Dumpster in West Allis, WI
Milwaukee Dumpster Rental has a straightforward process for West Allis residents to rent a dumpster for a variety of needs. Learn how much it costs to rent a lugger or roll-off dumpster in West Allis, including:
| | | | |
| --- | --- | --- | --- |
| Size | Type | Capacity | Price |
| 8 Yards | Lugger | 2 Tons | $450* |
| 10 Yards | Lugger | 2 Tons | $455* |
| 12 Yards | Roll-off | 2 Tons | $460* |
| 15 Yards | Lugger or Roll-Off | 3 Tons | $480* |
| 20 Yards | Lugger or Roll-Off | 3 Tons | $495* |
| 30 Yards | Roll-Off | 4 Tons | $525* |
| 40 Yards | Roll-Off | 5 Tons | $640* |
*Save $20 when you order online!
Milwaukee Dumpster Rental has the best rental rates for waste removal around. Whether you need waste removal for your West Allis home clean-up or commercial construction, we are always ready to serve you. If you do not have room for a dumpster or don't want to place it on the street, check out our Junk removal Service.
Save $20.00 when you order online
What size dumpster do I need?
Deciding on the perfect size dumpster rental depends completely on the size of your project. Smaller sized dumpsters are best served for yard debris, small remodeling projects, and general household cleanups. A bigger, 20-yard dumpster rental is perfect for moving to and from your home, for hauling large amounts of brush, or for a home remodeling project. 30-yard dumpster rentals are used for estate cleanups and large scale demolition construction projects. 40-yard dumpsters are perfect for extra-large projects such as estate home sales, or commercial warehouse cleanings.
Only need a small dumpster for a day? We can quickly deliver, sometimes even on the same day, if ordered before 10AM. You can keep your dumpster rental for up to 15 days at no extra cost! Call us for recycling costs and rates on concrete and dirt loads. The largest rentals for concrete dumpsters max out at 12 yards.
Waste Management Dumpster Rules
Customers often ask if they can toss away specific household items like lead paint, light bulbs, computers, beds, or batteries. We have a list of items that can and cannot go into our West Allis dumpster rentals. Hazardous materials can be taken to your local garbage dump. Most electronic items are banned from both public and private landfills, and will need to be recycled instead.
Do I need a permit for a dumpster in West Allis?
Yes. The City of West Allis requires a Dumpster (Street Occupancy) Permit for any dumpster that obstructs people's right-of-way. Dumpsters placed within your property's lot line do not require a permit. Permits cost $35 for 1-5 days, or $50 for 6-30 days. For every permit, the city also requires a $100 refundable deposit.
Dumpster rental for concrete in West Allis
Need an affordable way to haul away concrete? Milwaukee Dumpster Rental has the solution. We offer dumpsters specifically for concrete removal. Our 12 yard dumpster can hold a maximum of 12 tons, which is the most we can haul at one time. The 12 yard roll off dumpster is an ideal choice for concrete because it comes equipped with a swinging gate that allows for easy wheelbarrow access.
Do us a favor and keep the concrete separated from other items so we can wave your tonnage fee and recycle the concrete for future use.
Due to safety regulations, concrete loads cannot be heaped above the rim of the dumpster.
Dumpster rental for roofing shingles in West Allis
Throw away your asphalt shingles, tar paper, and nails by ordering an affordable roofing shingle dumpster in West Allis today. Our roofing dumpsters are not for wood, cedar shakes, flat top roofing, cardboard, bundle wrappers, or any other type of garbage.