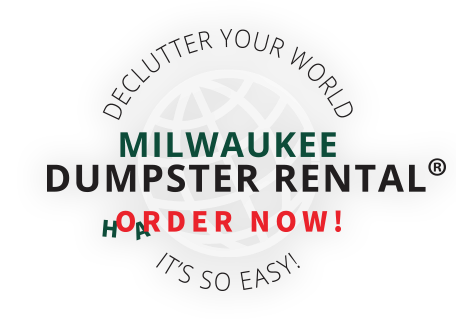 Milwaukee Junk Removal
Order Junk Removal Services Online
Junk removal service for those that do not have the space for a dumpster
Pricing
We charge $480 for a 15 cubic yard trailer. We provide 1-2 employees that will help you with the load.
To give you an idea of what a 15 cubic yard container can hold:
12 cubic yard = The amount of debris the size of a mid sized car.
3 cubic yard = A full sized pick up truck bed measured at 4' x 8' x 3' tall
*Call Milwaukee Dumpster Rental at 414-550-2988 to learn more about our junk removal services*
Removal of Restricted Items

We haul those items that are banned from the landfill. We can safely and legally dispose of almost anything, including:
Refrigerators
Electronics
Chemicals
Liquids
General construction materials
Residential debris
Wood
Plastic
Cardboard
Drywall
Household items
Furniture
Garage clean outs
General clutter
Washers and dryers
Stoves
Water heaters
Carpeting
Insulation
Metal
And much more
Junk Removal Service Areas
Milwaukee, Waukesha, Kenosha, Pewaukee, New Berlin, Mequon, Whitefish Bay, Franklin, Fox Point, Racine, Wauwatosa, Port Washington, Shorewood, Cedarburg, Caledonia, Menomonee Falls, Mukwonago, West Bend, Kewaskum, Bayshore, Brookfield, Oak Creek, Bay View, South Milwaukee, West Allis, Elm Grove, Germantown, West Milwaukee, Elm Grove, Delafield, Oconomowoc, Slinger, Hartford, Hartland, Muskego, Germantown, Sussex, Richfield, Thiensville.
The Advantage of Using Junk Removal Services
It is fine to order a 15 yard dumpsters when you have the time and space to sort through all the items you may want to part with. But for those of you who have a clear idea of what needs to be removed from your life you may as well save yourself some time and effort and request a pick up service at the same cost as it would be for a 15 yard dumpster. We will send 1-2 workers out to your location to help you load your junk and then haul it away.
Things to know about doing Junk Removal yourself
One trip to the dump can take up to 2 hours round trip depending on your location to your local dump. The time spent handling your trash and waiting in line at the landfill can result in a loss of a weekend or 2. Most landfills are open 1/2 day on Saturday and closed on Sunday. Junk removal can save your weekends. You simply point to the items and we will remove them. Most clean ups are done with one trip.
Things to know about a junk removal service – avoid the upcharge
It is best to have all your items staged in a garage or outside on your property. This way you will know what and how much debris you need to dispose of. This information will come in handy when you are getting quotes. This way you can avoid the "up charge". Having your items staged and ready to load. If the items are outside you will want to put a tarp over the items so the neighbors don't complain. Also, no one likes rain soaked junk.