Milwaukee Junk Removal
Junk removal pricing made very easy
We charge $100 for the trip plus $25 per cubic yard. A full sized pick up truck bed 4' x 8' x 3' tall is approximately 3 cubic yard. One trip can hold up to 15 cubic yard. Call or text us to schedule a quote 414-550-2988
Accepted items - general construction materials, kitchen remodels, wood, plastic, cardboard, drywall, household items, furniture, garage clean outs, general clutter, washer, dryers, stoves, water heaters, carpeting, insulation, metal and misc debris.
Unaccepted items - Hazardous Waste / Chemicals / Cars
Our junk removal service and prices include the following areas and between. Milwaukee, Waukesha, Racine, Caledonia, Bay View, Shorewood, Cudahy, St Fransis, South Milwaukee, Oak Creek, White Fish Bay, Bay Side, Fox Point, Bayshore, Mequon, Fox Point, Glendale. Greendale, Wauwatosa, Brookfield, New Berlin, Franklin, Germantown, Pewaukee, Brown Deer, New Berlin, Menomonee Falls, Elm Grove, Delafield, Mukwanago, West Allis, West Milwaukee, Hartland, Sussex and more.
Things to know about junk removal
One trip to the dump can take up to 2 hours round trip depending on your location to your local dump. The time spent handling your trash and waiting in line at the landfill can result in a loss of a weekend or 2. Most landfills are open 1/2 day on Saturday and closed on Sunday. Junk removal can save your weekends. You simply point to the items and we will remove them. Most clean ups are done with one trip.
Things to know about dumpsters
Dumpster rental is nice because you can keep the container for up to 30 days with Milwaukee Dumpster Rental. This will allow you time to sort through your junk and determine what is valuable and what is junk. Dumpsters, if loaded with care can sometimes hold up to twice the amount they are designated for. Breaking items down with a saw or hammer and keeping the load flat can bring very efficient results. Dumpsters do not generally damage your driveway. If you lay down boards for your dumpster to placed on this not only protects your driveway but also marks the placement of your roll off or lugger. Roll off dumpster have gates in the back that allow you walk bigger / heavier items in. Dumpsters come in many different sizes and can hold very heavy items. Check our prices and see our dumpster rental service area.
We can help. Milwaukee Dumpster Rental offers a 30 day period at no additional cost. Our junk hauling service allows you the time to sort through your items and allows flexibility for deciding between trash, treasures and recyclables. If you don't want to pile your junk on your front lawn or at the end of your driveway or allow strangers in your home, view the many different container sizes form Milwaukee Dumpster Rental and put your debris in its proper place.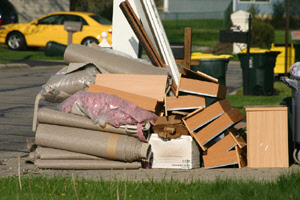 You may have a small amount of junk to pick up. Milwaukee Dumpster Rental has listed all the Milwaukee area dumps and landfills for your convenience. Many Milwaukee area cities, villages and towns (Waukesha) offer a pick up service or drop off locations for small amounts of debris. Please compare prices and service to hauling your own junk and consider the convenience of having a dumpster rental for a long period of time at no additional cost. We have also provided a quick link for the recycling in the Milwaukee area. Simply enter your zip code and find your local recycling center.
Milwaukee Dumpster Rental will not pressure you when its time to clean up in the spring or fall. Our junk removal service will not charge you for extra days when you have a home renovation or remodeling project. Dumpster service for new construction, demo and remodeling projects may even have a longer rental period without extra costs or penalties.
Junk Hauling in the Milwaukee area can be complicated. Where can I take my garbage? What types of rubbish can I throw in a dumpster? How can I get a street permit for a dumpster? What can I recycle? Here are the answers to some of the most frequently asked questions.

Dumpster rental tips
We try to make ordering a dumpster easy. We have many different sizes of dumpsters - 8 yard, 10 yard, 12 yard, 15 yard, 20 yard, 30 yard and 40 yard. The three most common dumpster sizes are the 12 yard (small), 20 yard (medium) and 30 yard (Large). These dumpsters have approximately the same base size (foot print). The difference is in the height of the walls. How much debris/ junk a dumpster can hold is really up to you. Here is my personal point of reference for the amount of junk that can be hauled away in a 12 yard dumpster. When a fully loaded 12 yard dumpster is dumped on to the ground, the debris is the size of a mid size car (or) one car stall of your garage. When Items are broken down and loaded flat you will be surprised by the amount of trash you will be able to fit into any dumpster size. We do carry two types of dumpsters. Roll-offs and Luggers. Luggers have a smaller base with higher sides and can fit into tight areas. They are great for alley ways and tight drive ways.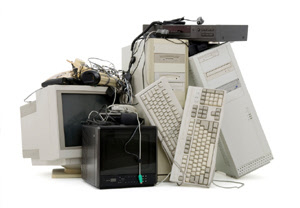 Ordering a dumpster is easy
Longer dumpster rental periods and no hidden fees. Excellent service at a great price. Save $20 when you order online. Milwaukee area junk, debris, trash, garbage include Port Washington Richfield Rubicon Saukville Bayside Big Bend Brookfield Brown Deer Caledonia Cedarburg - Racine Chenequa Colgate Cudahy Hales Corners Menomonee Falls Mequon Merton Milwaukee Delafield Dousman Eagle Elm Grove Fort Atkinson Fox Point Franklin Genesee Germantown Glendale Grafton Greendale Greenfield Kenosha Mukwonago Muskego Waterford Waterloo Watertown Waukesha Wauwatosa West Allis West Bend Whitefish Bay Wind Lake 
Shorewood Slinger South Milwaukee St Francis Stonebank Sullivan Sussex Wales Ashippun Nashotah New Berlin North Prairie Oak Creek Oconomowoc Okauchee Palmyra Pewaukee Hartford Hartland Ixonia Jackson Jefferson Johnson Creek Lake Mills Lannon Lebanon Lisbon and more.