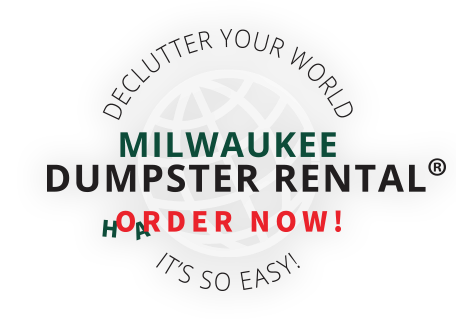 Franklin Dumpster Rental Service
Franklin Dumpster Rental
Franklin homeowners trust Milwaukee Dumpster Rental for affordable and reliable dumpster rental services. We have the best rental rates for all your home improvement or construction projects. Reserve a dumpster for 1 day or 15 days so you can work at your own pace. Learn about our dumpster types, costs, dimensions, and sizes before you rent, and be sure to order off our website to get $20 off the listed price!
Available Dumpster Types:
| | | | |
| --- | --- | --- | --- |
| Size | Type | Capacity | Price |
| 8 Yards | Lugger | 2 Tons | $450* |
| 10 Yards | Lugger | 2 Tons | $455* |
| 12 Yards | Roll-off | 2 Tons | $460* |
| 15 Yards | Lugger or Roll-Off | 3 Tons | $480* |
| 20 Yards | Lugger or Roll-Off | 3 Tons | $495* |
| 30 Yards | Roll-Off | 4 Tons | $525* |
| 40 Yards | Roll-Off | 5 Tons | $640* |
*Save $20 when you order online!
Save $20.00 when you order Online
Lugger vs roll-off dumpster
Milwaukee Dumpster Rental has two types of dumpsters: luggers and roll offs. The roll off is the model you likely imagine when you think of a dumpster. Lugger dumpsters have higher sides than the roll off units. The lugger is a hexagonal shape with a flat bottom base. Roll offs include a gate in the back for loading waste safely, since they are generally larger.
What size dumpster can I park in my driveway?
Milwaukee Dumpster Rental has several dumpster dimensions: 8 yards, 10 yards, 15 yards, 20 yards, 30 yards and 40 yards. Each yard refers to how many cubic yards of waste can fit into the dumpster. To get an idea of the size you need, a 12 cubic yard dumpster holds about the equivalent of a mid-sized car.
Lugger dumpsters hold up to 20 yards and are easier to fit in narrow driveways. Larger roll off dumpsters may need to go on the street. If you can't place the dumpster in your driveway, you need to contact the City of Franklin for a dumpster street permit.
If you do not have room for a dumpster or can't get a permit, consider our Junk Removal Service. It costs the same as renting a 15-yard dumpster without taking up the space!
What size dumpster do I need for my project?
With dumpsters ranging from 8-yards to a whopping 40-yards, Milwaukee Dumpster Rentals has waste receptacles for every size project. Deciding on the perfect size dumpster rental depends completely on what you need:
15-yard and under: Best for clearing out yard debris, annual spring cleaning projects, and minor remodeling waste (think bathroom or kitchen).
20-yard: The right size for moving out or into a home, removing large amounts of landscaping brush, or interior demolition waste (multiple rooms, carpeting, and flooring).
30-yard: Suitable for discarding furniture, estate cleanups, and large scale demolition/construction waste.
40-yard: Perfect for extra-large projects such as an entire estate home sale/cleanup, or commercial warehouse cleanings, and large scale demolition/construction waste.
What waste is allowed in a rented dumpster?
The City of Franklin has rules about what items can be safely discarded in public landfills. You might be surprised to learn that most appliances aren't allowed in dumpsters, regardless of size. Hazardous materials are also banned. Milwaukee Dumpster Rental has a list available of items that can and cannot go into our dumpster rentals.