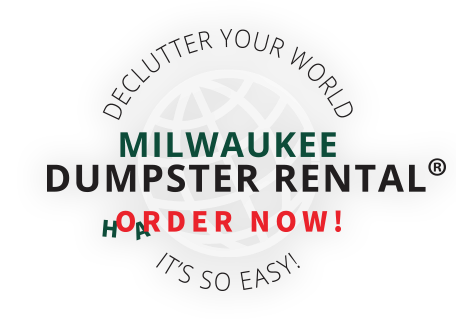 Milwaukee Dumpster Rentals
Dumpster for Furniture in Milwaukee
Wanting to get rid of an old couch or recliner? We've got you covered! Rent a dumpster for furniture removal in Milwaukee, Wisconsin. Keep in mind what you can't put in your Milwaukee dumpster, including no appliances or electronics. Your furniture should be strategically placed and broken down if possible so that it is not sticking out of the dumpster. For example, if you have a dresser, you can take a hammer and break it down. Everything should be flush to the top rim of the dumpster.
How much does a dumpster cost in Milwaukee?
We have a variety of dumpster options for your Milwaukee project. Check out our dumpster pricing page to see our current specials.
| | | | |
| --- | --- | --- | --- |
| Size | Type | Capacity | Price |
| 8 Yards | Lugger | 2 Tons | $450* |
| 10 Yards | Lugger | 2 Tons | $455* |
| 12 Yards | Roll-off | 2 Tons | $460* |
| 15 Yards | Lugger or Roll-Off | 3 Tons | $480* |
| 20 Yards | Lugger or Roll-Off | 3 Tons | $495* |
| 30 Yards | Roll-Off | 4 Tons | $525* |
| 40 Yards | Roll-Off | 5 Tons | $640* |
*Save $20 when you order online!
Can you throw a mattress in a dumpster?
Yes, you may dispose of a mattress. Please keep in mind that it does depend on the size of the mattress and the quantity. It is best if they are placed on the bottom of the dumpster so that you may put the remainder of your trash on the top to level it out. Roll off dumpsters are better for mattresses than luggers.
Can chemicals be thrown into a dumpster?
No chemicals of any kind can be put in the dumpster. No liquids, paint, oil, and gas, for instance can not be disposed of into the dumpster. What IS allowed and what is NOT allowed to be thrown into a dumpster. For those items that cannot be put into the dumpster, we do offer a pick up service in Milwaukee only at a special rate.
Can a washer and dryer be put into a dumpster?
No, a washer and dryer cannot be placed inside of the dumpster. Electronics are also prohibited from dumpsters. For restricted items, we have a junk removal service. It is a great way to get rid of these items. Offered in Milwaukee area only. We offer an awesome junk removal service for those who do not have the room for a dumpster rental.
Dumpster for garbage
At Dumpster Rental Milwaukee, we'll help you remove the garbage that doesn't fit in your regular can. With a range of sizes, you're guaranteed to find the right dumpster for your needs. Check out our rates and a list of unaccepted items here.