Oconomowoc Dumpster Rental
Affordable Waste Management Services for Your Oconomowoc Project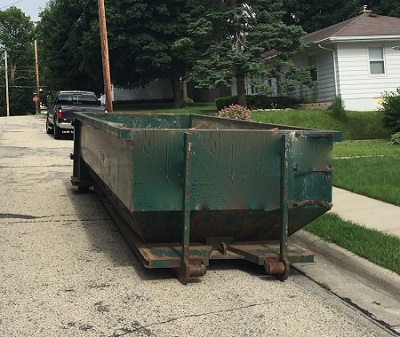 When you need high-quality waste management services at the most affordable prices, Milwaukee Dumpster Rental is the company for you! We provide the best dumpster prices in the Oconomowoc area for your waste management, junk removal, recycling, or construction debris clean-up needs.
We have lugger and roll-off dumpsters in a wide range of sizes to fit your particular project. No matter if you're cleaning the junk out of your garage or you're working a large construction project, a rental from us makes the whole process much easier.
Save $20.00 when ordered online
What Can't You Throw Away in an Oconomowoc Dumpster?
There is a list of items that Wisconsin citizens are prohibited from throwing away in a dumpster, including appliances, chemicals, gasoline, batteries, medical waste, electronics, and more. You can check out Milwaukee Dumpster Rental's full list of restricted items.
Can I throw a mattress in the dumpster?
Yes, you may dispose of a mattress. Please keep in mind that it does depend on the size of the mattress and the quantity. It is best if they are placed on the bottom of the dumpster so that you may put the remainder of your trash on the top to level it out. Roll off dumpsters are better for mattresses than lugger dumpsters.
Can Chemicals be Thrown into a Dumpster?
No chemicals of any kind can be put into a dumpster. For those items that cannot be put into the dumpster, we do offer a junk removal service in the Milwaukee area at a special rate.
Is There a Specified Time Frame I Can Rent a Dumpster?
The dumpster is yours for up to 15 days. You can have it removed sooner if you wish at the same price. You may keep the dumpster longer for an additional charge of $12/day. Or, you can exchange it for the price of another dumpster. Once you're finished, just give us a call and we'll pick it up for you.
What Is The Cost Of a Dumpster For Waste Management?
Our prices range from $430 to $615 and will vary depending on your project needs. If for example, you have a hoarder house, you will benefit from a 20 yrd or 30 yrd dumpster. You can place your order online and save $20 instantly. Keep your dumpster for up to 15 days. We have flat rate prices with a ton cap.
| | | | |
| --- | --- | --- | --- |
| Size | Type | Capacity | Price |
| 10 Yards | Lugger | 2 Tons | $430* |
| 12 Yards | Roll-off | 2 Tons | $435* |
| 15 Yards | Lugger or Roll-Off | 3 Tons | $455* |
| 20 Yards | Lugger or Roll-Off | 3 Tons | $470* |
| 30 Yards | Roll-Off | 4 Tons | $500* |
| 40 Yards | Roll-Off | 4 Tons | $615* |
*Order online and save $20