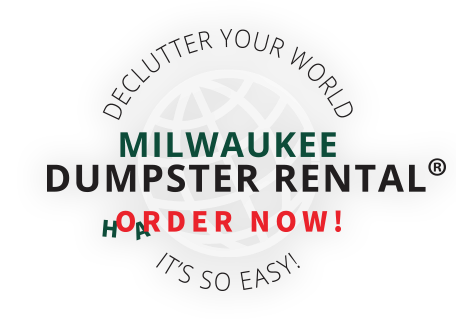 New Berlin Dumpster Rental Service
How to Rent a Dumpster in Waukesha County
Dumpster rental has never been easier or more affordable in Waukesha County. New Berlin homeowners and businesses can secure lower costs, longer rental periods, more size options and a quick pick up through Milwaukee Dumpster Rental. Easily dispose of waste or recycling created by landscaping, home remodeling, construction and demolition. Rent for a single day or 15 days with no hidden fees. Costs includes everything: delivery, fuel, haul, and more.
| | | | |
| --- | --- | --- | --- |
| Size | Type | Capacity | Price |
| 8 Yards | Lugger | 2 Tons | $450* |
| 10 Yards | Lugger | 2 Tons | $455* |
| 12 Yards | Roll-off | 2 Tons | $460* |
| 15 Yards | Lugger or Roll-Off | 3 Tons | $480* |
| 20 Yards | Lugger or Roll-Off | 3 Tons | $495* |
| 30 Yards | Roll-Off | 4 Tons | $525* |
| 40 Yards | Roll-Off | 5 Tons | $640* |
*Save $20 when you order online!
Dumpster Types
Lugger Dumpsters have high sides and flat bottom bases. They have a hexagonal shape when viewed from the side. This design helps keep waste contained inside.
Roll Off Dumpsters are larger and look more like traditional dumpsters. The biggest sizes include gates on the back which can open for easier loading.
Save $20.00 when you order Online
What size dumpster do I need for my project?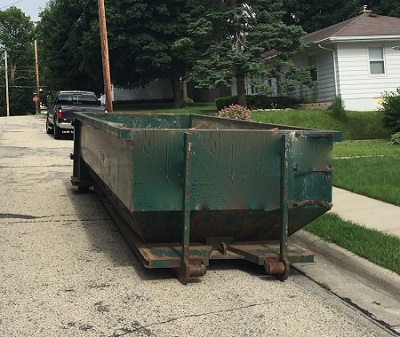 Dumpsters range in capacity from 8- to 40-yards. Each yard refers to how many cubic yards of waste fit into the uncovered dumpster. Ordering the right size rental depends on the scale of your project. 15-yard and under are the smaller sized dumpsters. Most homeowners are fine with these sizes for yard debris, spring cleaning, and remodeling.
Biggers dumpsters are available in 20-, 30-, and 40-yard sizes. These larger units are big enough for commercial construction projects, home construction, estate cleanup, or major landscaping. Ask us about what you need for a higher ton cap on these large-scale disposals.
Driveway dumpster rental
Whether a dumpster fits in your driveway will depend on the size you rent and the width of your driveway. Most lugger dumpsters will fit in a driveway wider than 6 feet. Roll offs are bigger and may not fit.
Can I park it on the street?
If you can't place it in your driveway, contact the city of New Berlin to request a dumpster street permit. Dumpsters rented for commercial purposes may need additional permits.
New Berlin waste management rules
Wisconsin has strict rules about what items can be legally discarded in public landfills. The City of New Berlin bans certain items from being disposed of in a dumpster. Milwaukee Dumpster has a list available of items that can and cannot go into our rentals. Consider our low-cost junk removal service if you need to discard banned items. We safely and legally dispose of just about all items not allowed in landfills.
Call us for information on recycling roofing shingles and wood, and learn about the limitations placed on hauling concrete and dirt.