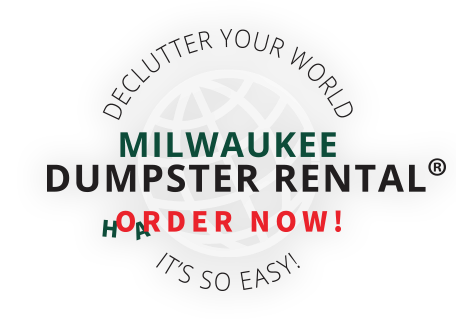 Muskego Dumpster Rentals
Lugger or Roll-Off Dumpsters: Order Online
When your Muskego residential or commercial construction project is in need of proper waste management, call Milwaukee Dumpster Rental. We offer a better value than any dumpster rental company in the Muskego area.
We offer luggers and roll offs in various sizes. Luggers have a smaller base and higher sides. They're good for fitting into tight areas such as parking spaces and narrow driveways. They come in handy when you're moving out of your home and have a large amount of trash and debris. Roll off dumpsters are your all-purpose dumpsters, great for anything from major construction demolition to household clean ups.
What size dumpster do I need for my Muskego project?
Our dumpsters range in capacity from 8- to 40-cubic yards. We have waste receptacles for every size project.
Most homeowners are satisfied with a 15-yard dumpster. These dumpsters are the right size for cleaning out yard debris, spring cleaning, and debris from remodeling. If you have limited space, or need help loading junk, our junk removal services may be for you.
Bigger dumpsters are available in 20, 30, and 40-yard sizes. These larger units are big enough for commercial construction projects or home construction. Other extra-large projects include estate cleanup, major landscaping, and demolition/construction.
| | | | |
| --- | --- | --- | --- |
| Size | Type | Capacity | Price |
| 8 Yards | Lugger | 2 Tons | $450* |
| 10 Yards | Lugger | 2 Tons | $455* |
| 12 Yards | Roll-off | 2 Tons | $460* |
| 15 Yards | Lugger or Roll-Off | 3 Tons | $480* |
| 20 Yards | Lugger or Roll-Off | 3 Tons | $495* |
| 30 Yards | Roll-Off | 4 Tons | $525* |
| 40 Yards | Roll-Off | 4 Tons | $640* |
*Order online and save $20
Save $20.00 when you order Online
Can I Put Concrete or Asphalt in a Dumpster?
If you need to haul away concrete, asphalt or dirt, Milwaukee Dumpster Rental can help. We offer multiple sizes up to 12 yards for concrete, dirt, and asphalt disposal. If you can keep these materials appropriately separated, we can waive the tonnage fees and recycle them for reuse!
What Items Can't Go in a Dumpster?
Certain items are restricted from landfills, including:
Tires
Washers and dryers
Refrigerators & freezers
Please review the list of items you can and can't throw into a dumpster.