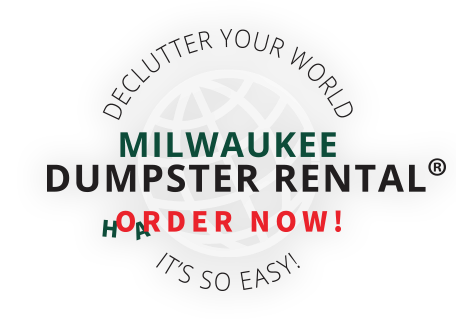 Dumpster Rentals in Milwaukee County
How Will I Know What Size Dumpster I Need?
It depends on what type of project you're doing. The 20 yd and 30 yd are the most commonly rented roll off dumpsters since they work well for a household cleanup or construction project. A 12 yd roll off is good for rental units and small remodel projects. We offer other sizes and dumpster prices.
Can I Use a Dumpster for an Asphalt Roofing Job?
You will need to know how many asphalt roofing squares you're using, and that will determine the size dumpster that is needed. For example, a 15 yd dumpster will hold 35 roofing squares. Roll off dumpsters have gates and lugger dumpsters do not – check out our guide to dumpster rental sizes for roofing projects.
How Much Does a Dumpster Rental Cost?
Our prices range from $450 to $640 and will vary depending on your project needs. If, for example, you have a hoarder house, you will benefit from a 20 yrd or 30 yrd dumpster. You can place your order online and save $20 instantly! Keep your dumpster for up to 15 days. We have flat rate prices with a ton cap.
What Items Aren't Allowed in a Dumpster?
Certain items are restricted from landfills in Milwaukee County, including:
Liquids/Chemicals
Asbestos
Medical waste
Tires
Electronics
Washers and dryers
Refrigerators & freezers
Other Appliances