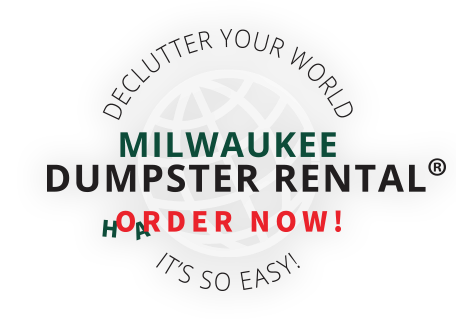 Sussex Dumpster Rental
What Size Dumpster Do I Need?
Milwaukee Dumpster Rental offers sizes ranging from 8 to 40 yards to accommodate your waste management needs.
| | | | |
| --- | --- | --- | --- |
| Size | Type | Capacity | Price |
| 8 Yards | Lugger | 2 Tons | $450* |
| 10 Yards | Lugger | 2 Tons | $455* |
| 12 Yards | Roll-off | 2 Tons | $460* |
| 15 Yards | Lugger or Roll-Off | 3 Tons | $480* |
| 20 Yards | Lugger or Roll-Off | 3 Tons | $495* |
| 30 Yards | Roll-Off | 4 Tons | $525* |
| 40 Yards | Roll-Off | 4 Tons | $640* |
*Order online and save $20
Dumpster types: lugger vs roll off
The lugger dumpster is hexagonal with higher sides and a smaller, flat bottom base. It's generally used for scrap metal but is not limited to it. The Lugger has no gate in the back. Learn more about lugger dimensions.
A roll off dumpster is commonly found on most constructions sites. It has a gate in the back of the container that is used for loading and unloading the dumpster. Learn more about roll off dimensions.
What Is the Cost of a Dumpster Rental in Sussex?
Prices for dumpster rentals range from $430 to $615 and will vary depending on the type and size of dumpster. We have high ton caps and no additional fees, and you can keep your dumpster for up to 15 days. Check out our low dumpster prices here, and if you place your order online you can save $20 instantly!
Save $20.00 when you order online
Are There Items That Aren't Allowed In A Dumpster For Waste Management?
Yes there are some items that are restricted. For example, washers, dryers, chemicals, and tires are some of the items that you cannot throw in a dumpster. We have a list of restricted items on our website. We do, however, have a junk removal service for those items that you cannot put in the dumpster. With our junk removal service, we send a driver out to haul the items away for you at the same price of a dumpster rental.
How Many Days Can I Rent A Dumpster in Sussex?
You can rent a dumpster for up to 15 days. You may keep the dumpster longer for an additional charge of $12/day. Once you're finished with your project, just give us a call and we will haul it away for you.
Dumpster rental for roofing shingles
We provide residents and businesses throughout Sussex with affordable dumpsters for roofing shingles. You can rent a roofing dumpster with no ton cap to throw away or recycle your asphalt shingles, tar paper, and nails.
Roofing dumpster rentals are not applicable to cedar shakes. If a load of asphalt shingles are mixed with cedar shakes, regular terms and rates will apply.
Can I use a dumpster for concrete?
Yes, you can. If you need to haul away concrete, asphalt or dirt, we have several sizes available for you to use. A 12-yard roll off dumpster is the largest available size for hauling concrete.