Waste Management Dumpsters Milwaukee
Waste Management Dumpster Rental throughout Milwaukee, Waukesha & Southeast WI
Easy Waste Disposal in Milwaukee
Got Junk? Debris removal in Milwaukee is a specialty of ours at Milwaukee Dumpster Rental. Whether you're cleaning out the rental unit, cleaning the home of a hoarder, renovating your Bayview bungelow, we have the dumpsters you need at the cost you want. Milwaukee Dumpster Rental provides homes and businesses with the many waste management solutions available in Milwaukee, Waukesha and surrounding areas.
Dump Info in Milwaukee
We've rented dumpsters to clients all around Milwaukee and the surrounding counties. However, there are circumstances when small amounts of yard debris, recyclables, remodeling waste can be taken to your local landfill or waste processing center.
It's always helpful to know the waste management service and information of your community and surrounding areas. Some of the areas we'll rent dumpsters to include:
Milwaukee
Pewaukee
New Berlin
Mequon
Whitefish Bay
Fox Point
Wauwatosa
Bay View
Port Washington
Shorewood
Cedarburg
Caledonia
Menomonee Falls
Mukwanago
West Bend
Kewaskum
Bayshore
Dumpster rental in Milwaukee can be a little complicated especially for the person or company renting a dumpster for the first time. The dumpster pros at Milwaukee Dumpster Rental are here to make your waste management problems disappear. If you have a concrete slab, patio or sidewalk to remove please call us about renting a dumpster for concrete only. Recycling concrete or dirt can save you hundreds of dollars on posible ton overage charges.
Please contact us if you have any questions about renting a dumpster in the Milwaukee area.
Rental Dumpster Sizes Available in Milwaukee
There are many Roll Off dumpster sizes to choose from at Milwaukee Dumpster Rental. Our dumpsters range anywhere from 8 to 40 yard containers and with different dumpster styles to choose from depending on the application. Construction waste management may require a larger size roll off dumpster than general trash services for your home remodel, which may only require a smaller lugger. Please check out the answers to the Frequently Asked Questions for your solid waste management dumpster rental questions.
The biggest question asked by first time dumpster rental customers will always be, "What size dumpster do I need?" There are three basic universal roll off dumpster sizes to consider for Milwaukee waste management. Dumpster sizes are 12 yard, 20 yard and 30 yard. The 12 yard roll off dumpster can handle the amount of waste/debris the size of a mid sized car,(in other words), the amount of waste/debris that could fill a one car garage stall.
Locate your local dump for garbage waste and recycle information.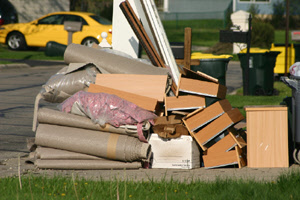 Dumpster Rental Tips
Here are some additional tips on renting a roll off dumpster for your waste management in the Milwaukee area. 
To rent a dumpster in the Milwaukee, Waukesha area, it is best to place the roll off dumpster on your property as far away from the street as you can, by doing this you will reduce or eliminate the likely hood of someone else filling your dumpster. By placing the dumpster off the street you will avoid the cost of Milwaukee street permits and barricades required by cities and villages. Average extra cost per dumpster rental in the street in Milwaukee - $155.00.
You can save $20.00 on each listed price when you order online at Milwaukee Dumpster Rental. Order your roll off dumpster at least 24 hours ahead of time. This will allow dispatch the proper amount of time to schedule your dumpster delivery. When ordering a dumpster in Milwaukee and Waukesha check for extra fuel fees or tipping fees that are added to the initial roll off dumpster rental cost.
Dumpster rentals can be very expensive if your weight exceeds the set tonnage caps. It can be hard to tell how much your waste / trash weighs and what size dumpster you need to order. The person placing your dumpster order should be able to tell you the required size and how much your roll off dumpster waste / trash is going to weigh.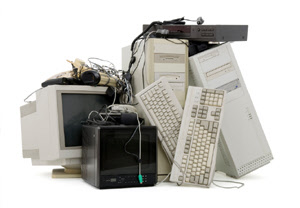 Waste management recycling in Milwaukee is slowly evolving. Beware of extra costs if electronics are found in your dumpster. Electronics have been banned from the landfills since September 1st 2010.
Residential and commercial electronic recycling disposal contact Midwest Computer Recyclers. Electronics can also be dropped off at any local Best Buy Location.
Solid waste recycling can be done at Waste Management
10700 W Brown Deer Rd, Milwaukee, WI 53224-1500
Phone: (414) 355-6500
Scrap Metal Recycling can be delivered to the Miller Compressing Company
1640 West Bruce Street Milwaukee, Wisconsin 53204
Phone: (414) 671-5980
Dumpster Rental or Landfill Visit?
For the most part the consumer has two inexpensive choices. The first - renting a roll off dumpster. The second - Taking your garbage, trash, waste to a landfill. Landfills charge by the weight so the bigger the truck or trailer the better. Please check with your local landfills to find out if they will dispose of hazardous waste.
Items Restricted from Most Landfills
There are many types of refuse that is restricted items from landfills. 
These often include:
Gasoline, Oil, Electronics, Tires, and Asbestos
Computers and Electronics: (desktop, laptop, netbook and tablet computers) desktop printers (including those that scan, fax and/or copy) computer monitors other computer accessories (including keyboards, mice, speakers, external hard drives and flash drives) DVD players, VCRs and other video players (i.e., DVRs) fax machines and cell phones.