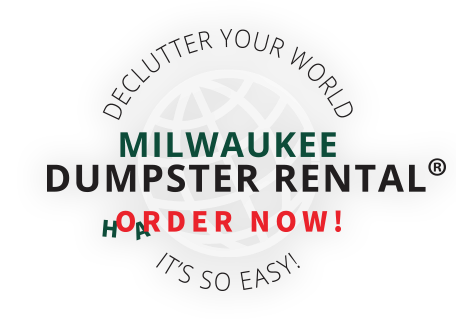 How to get a dumpster street permit
How to get a dumpster street permit in Milwaukee?
If you need a street permit for your dumpster in Milwaukee, the dumpster company is required to pull the permit for you. Even if your dumpster is sitting on the street for one day you will need a permit. The city will fine you if you have a container illegally placed on the street. You have the option of purchasing a 7 day or a 15 day permit. You can extend your permit from a 7 day to a 15 day. Street permit fees are based on how busy your street is. Flashing barricades are required in most locations when a dumpster is placed on the street, but there are some cases when you can order a dumpster with DOT (reflective tape) markings. This can be a suitable substitute for barricades.
Bay View is a neighborhood in Milwaukee and is subject to the city of Milwaukee requirements. For all other areas outside Milwaukee like Racine, Waukesha, Wauwatosa, Oak Creek, West Allis, New Berlin, Elm Grove, Brookfield, Greenfield, Glendale, Kenosha, Whitefish Bay, Shorewood, Menomonee Falls, Germantown, Slinger, Sussex, Mequon, Muskego, Franklin and Caledonia you will need to contact your local government regarding local street permit requirements for your roll off dumpster.
How to get a street permit for a dumpster in Wauwatosa?
You will need to contact the city of Wauwatosa. 7725 West North Ave Wauwatosa WI 53213. 414-479-8900 Ext 56. Paul Fassbender – Engineering Dept. Cell number 414-531-6657. If you have between 8 - 15 cubic yard of debris call and ask about our junk removal service. Simply stage your items in an accessable area and we will load and haul away you junk. Shop and compare junk removal prices online.
Here are the things you need to know. It will cost $75 for one week. In addition you will need to rent 2 barricade flashers that are placed on each end of the dumpster. Flashing barricade rentals can cost up to $55 for 1 week. You are allowed to pull only one 7 day permit for every two years for your residence. Dumpsters are not allowed on the street at all from October 16th to April 14th. If you place your dumpster on the street without a permit even for one day you may be fined up to $300 plus court fees. This dumpster permit is in addition to any other building permits. Dumpsters can never be placed in the alleys due to emergency vehicle access but they can be placed on a parking slab if they fit. Dumpsters can be placed (without a permit) on your driveway or front lawn but never on the public area between the street and the sidewalk. You will need this permit before the dumpster is placed on the street.
If you have a large remodeling project and need a dumpster on the street for longer than 7 days you will need to contact Paul Fassbender. Cell 414-531-6657 The City of Wauwatosa will make exceptions.
Lower you waste management cost with a few tips.
Will these rules slow your construction project progress and add more costs? Yes. But proper waste management can keep your job running smoothly. You do have options other than placing the container on the street. If you have the room you can place your dumpster in your driveway or on your front lawn. There may be damage to your property when doing this due to narrow driveways and soft soil conditions. Order a lugger dumpster instead of a roll off dumpster. Lugger dumpsters have a smaller foot print and a flat bottom. They are lowered from a boom so there is not as much friction when they are placed on your property. Lugger dumpster are delivered with smaller trucks and they are not as demanding as the larger trucks. Roll off dumpsters are tipped off the truck and then rolled onto your property. You can lay down boards for the roll off to be placed on to help protect the delivery surface. Roll off dumpsters are longer and wider and as a result easier to load. They also have a gate in the back where luggers do not have a gate at all. If you need to rent a dumpster in Racine you will need to contact their public works dept for a street permit. Save yourself the cost on waste removal when you separate concrete to be recycled. Rent a 12 yard dumpster for concrete only and you will not pay ton overage prices if the material is kept only to concrete debris only. It is a good idea to place these dumpsters on the street because the weight of concrete materials loaded into a 12yrd roll off dumpster.

Small Dumpster for remodeling
If you have a small remodeling job you will want to order a small dumpster for the demo. How much is a small dumpster? You may want to utilize the Bagster or haul your material to a local dump. Find a dump near me. The problem with Bagsters is that the capacity is 3 cubic yards. 4' wide – 8' long – 2.6' high. (the size of a full size pickup truck bed) The sides of these bags are floppy and they do not stand up on their own. However it is a very strong bag. You will be required to move that bag in a place where the Waste Management truck can pick it up. This can be tricky due to trees, wires and parked vehicles. The trucks use a large boom to hook the bags and drop them into the top of the truck payload. Small remodeling jobs can generate a total of 8-12 yards of trash debris. If you need to rent a dumpster in Kenosha WI and you need a street permit you will need to contact their public works dept before you order a dumpster.
Large Dumpster for remodeling
Large remodeling jobs require a large dumpster for the demolition at the beginning of the job. It usually takes between 2-5 days for a large demo to be completed. What is the price of a 30 yard dumpster? After the demolition you can set up a weekly service of 2 ea. 2 cubic yard containers. 2 yard containers have wheels on the bottom so you can move them as needed. The cost is about the same as keeping a dumpster on your property as long as you fill them every week. In most cases they are filled every week. You will be required to roll these containers to the road and back once a week for service. Overall it is a good way to manage your waste when there is limited room.
Dumpster rental for roofing in Wauwatosa Wisconsin. If you need to have your roof done you will want to rent a roll off dumpster for roofing shingles. Roll off dumpsters have gates in the back so you can walk your shingles into the container. Use our roofing calculator to find out what size dumpster do I need for shingles? If you need to a street permit for Milwaukee County contact us and we will apply for the street permit. We offer 7 day and 15 day permits. Keep your dumpster for one day or up to 15 days. High value dumpster rental for a cheap price.
What if I don't have the room for a dumpster rental?
We have a junk removal service that can pick up household and construction items and haul them away for you. Check out our price and conditions for junk removal. We even haul away restricted items that are banned from landfills. When your items are properly staged just give us a call and we will have them removed for you.